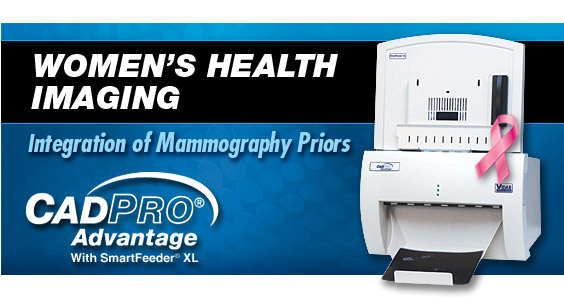 Film Digitizer for Mammography Priors, Digitized Film CAD
The use of full-field digital mammography (FFDM) is increasing rapidly in the United States and around the world.  Many factors must be evaluated when planning for FFDM in order for facilities to reap important benefits.  Facilities must plan for film storage for hard copy and digital files and address the unique workflow requirements of digital mammography in order to ease the transition to digital imaging.
Hardware and software choices are key!
Image Quality
VIDAR's CAD PRO and DiagnosticPRO Advantage offer clinically proven, high quality images.  Key imaging specifications found in the CAD PRO include:



44 micron spot size
32-bit mapped to 12- or 16-bit output
Optical density of 0.05-4.2

Number of Films to Scan
Type of Center

Characteristics

VIDAR Digitizer Solution

Software Solution

Low-Volume

Single file room (general radiography & mammography)

5-20 mammography patients per day

DiagnosticPRO Advantage

Supports DICOM MG SOP class as an SCU

Mid-Volume

CAD PRO Advantage

Supports DICOM MGSPO class as an SCU

High-Volume

CAD PRO Advantage

Supports DICOM MG SOP class as an SCU & utilizes VIDAR's SMARTFEEDER for batch digitizing
Software
Make sure your vendor supports DICOM MG or both MG and SC.  There are over 150 VIDAR integrators supporting SC, but only 6 supporting MG, and fewer still that support both.  If you are treating cancer or looking at symptomatic patients, then you wll need to use more of the DICOM MG standard than will a screening center.  Also make sure your vendor supports all portions of the MG standard and/or offers flexibility to create your own "DICOM-like" tag.