ClinicalExpress® DICOM Software
Integrating prior studies and outside facilities...
If you need to access prior studies, access studies from outside facilities, connect a remote site, or make digital copies of films for the patient to take to another facility, VIDAR's ClinicalExpress for general radiography and mammography is the solution for you.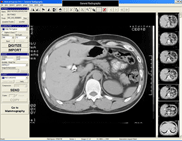 C
linical
E
xpress is designed for ease of operation and was developed specifically for use with the world's leading line of film digitizers — VIDAR's DiagnosticPRO
Advantage,
CAD PRO
Advantage,
and SIERRA
Advantage
. This software complies with the Digital Imaging and Communications in Medicine (DICOM) 3.0 standard to digitize relevant prior films and send the images to DICOM PACS or workstations; and allows you to easily connect outlying clinics, departments, film libraries, or your reading or treatment facilities. Alternatively, a user-friendly film digitizing station can be used to digitize film-based prior studies, including mammography. The DICOM image files can then be sent to PACS, exported to CD, or used to print hard copy duplicates without the need for film-processing chemicals.
Customer Benefits 
Use for general radiography and mammography
Easy and error-free patient demographic entry with Modality Work List
Easy connection to user-selectable remote locations
Automatic CT/MR segmenting
Scan 51" spinal film
Import/export patient CDs
Scan reports/other paper documentation with an inexpensive paper scanner