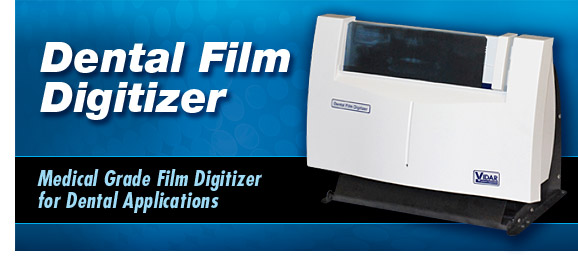 Medical film digitizing is an imaging procedure governed by medical and industry regulations. The Dental Film Digitizer from VIDAR is specifically tailored for the dental application and is a regulated medical device for use in diagnostic applications. Special attention must be paid to the unique challenges of accurately and reliably visualizing the details in medical films since decisions will be made about patient care based on these images.
VIDAR employs specialized optics to deliver quality results specifically for transmissive materials such as x-rays – not reflective media. Our imaging system is designed to accurately render the full grayscale data with minimal noise throughout the specified grayscale density range. VIDAR's medical products repeatedly meet demanding Optical Density tests that include specifications for both noise and linearity – at all grayscale steps. This is a calculation of clinically relevant Optical Density – not DMAX. For medical professionals this difference is important.
VIDAR's reputation for reliability in radiological medical imaging is world-renowned and a key to our products becoming the #1 selling medical film digitizers worldwide. VIDAR has over 20,000 placements of radiology devices. Now this same image quality and reliability is available for dental images. A variety of software connectivity options exist for easy integration into practice management systems.
In this, our newest medical imaging product, VIDAR offers high-speed digitizing of dental images without sacrificing quality, and supports the digitization of all dental film sizes – for Panoramic, Cephalometric, and Bitewing films (in approved film holders).